Painting Holidays in Turkey
Set on the Turquoise coast of Turkey is the enchanting historic town of Kalkan, which is the base for your painting holiday in Turkey. It is a sophisticated place with its narrow streets leading to a picturesque harbour.It is renowned for its high quality restaurants, many set at roof top level. By night Kalkan has a bustling relaxed atmosphere with its narrow cobbled streets lined with small boutiques and atmospheric bars playing blues and jazz. On your painting holiday in Turkey you will have many opportunities to explore and capture this beautiful town. The painting holiday in Turkey is hosted by Creative Getaways

Painting Session at the Ruins of Xanthos
Step by step painting demonstration during our painting holiday on location at the ancient Lycian ruins of Xanthos in Kalkan. The group at work using acrylic and watercolour.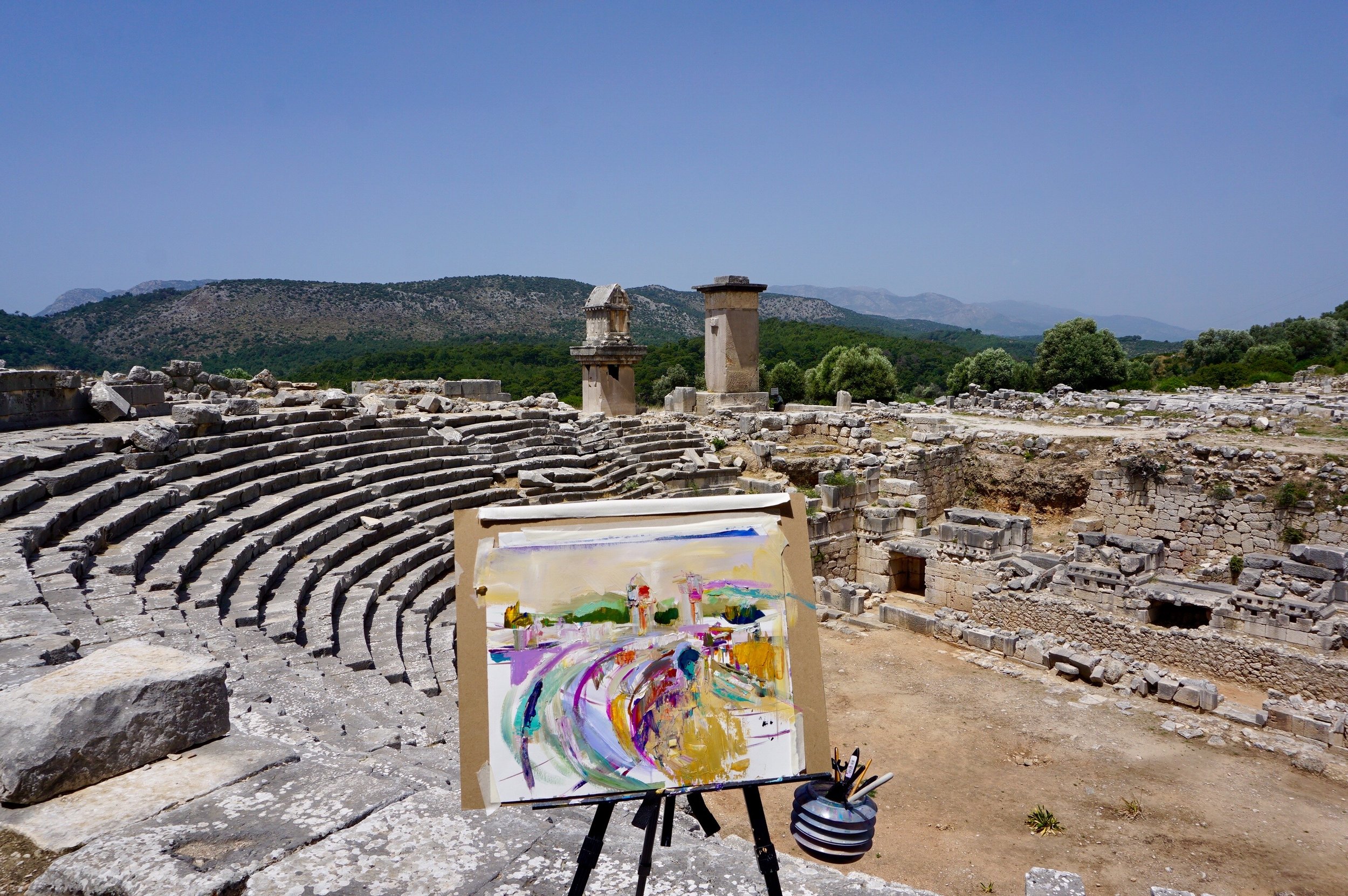 Boat trips
Such an integral part of the painting holidays in Kalkan is being immersed in water. The alluring Turquoise coast and rocky formation provides a great opportunity to paint and sketch whilst enjoy the local hospitality on the boat trips.
Painting Holidays in Spain
I currently run painting holidays and have done so for the last decade in Spain. More recently I have been based in the white washed village of Frigiliana, Spain, which was voted the 'prettiest village in Andalucía' by the Spanish tourism authority. This was for a period of 10 years running typically 8 holidays a year. My groups typically include a variety of levels from beginners to improvers and group sizes range from 4-12. I normally take people to paint in 'plein-air' mode on location such as Moorish castles, ancient Lycian ruins, beaches and mountain villages. I mainly demonstrate in acrylics and sometimes watercolour and offer sketching days as well as one on one help depending on the needs of the group and the medium which best suits the location.
Painting Holidays in Greece
I will be initiating painting holidays in the beautiful Island of Kalymnos in Greece on 28th September - 5th October 2019. It is the sponge divers island and sponges are sent all over the world. Kalymnos offers an authentic Greek Island with stunning scenery, simple tasty food, friendly people and of course stunning scenery. We will take advantage of the local views and also the sister island of Telendos only 10 minutes by ferry - a painters paradise and no cars! Peace and quiet and everything from seascapes to taverna life, forest and churches - we often take groups there twice as it is so popular - good eating and swimming too. For more information on my holiday and to book Greek Holidays visit. greekislandpaintingtrips.com

Walking and Sketching Holidays
As a keen language learner, I enjoy working with groups in an informal setting while being a creative catalyst whether its art or improving their language skills. I have therefore developed a sample itinerary programme for leading walking and sketching holidays in Spain. This would provide an opportunity to capture a dramatic landscape with a sketchbook camera or iPad whilst out engaging in exercise in dramatic surroundings. I would run a follow up session to further the sketches into more resolved paintings depending on the location and weather conditions either in an indoor or outdoor studio.
Painting and Movement
During my work with groups I offer additional techniques to help achieve desired states for painting derived from my extensive background as an NLP practitioner, performance coach, incorporating yoga and meditation. This is in order to assist my participants to access a 'mindful' state and use the whole body approach to painting. See more about this on my creativity coaching page.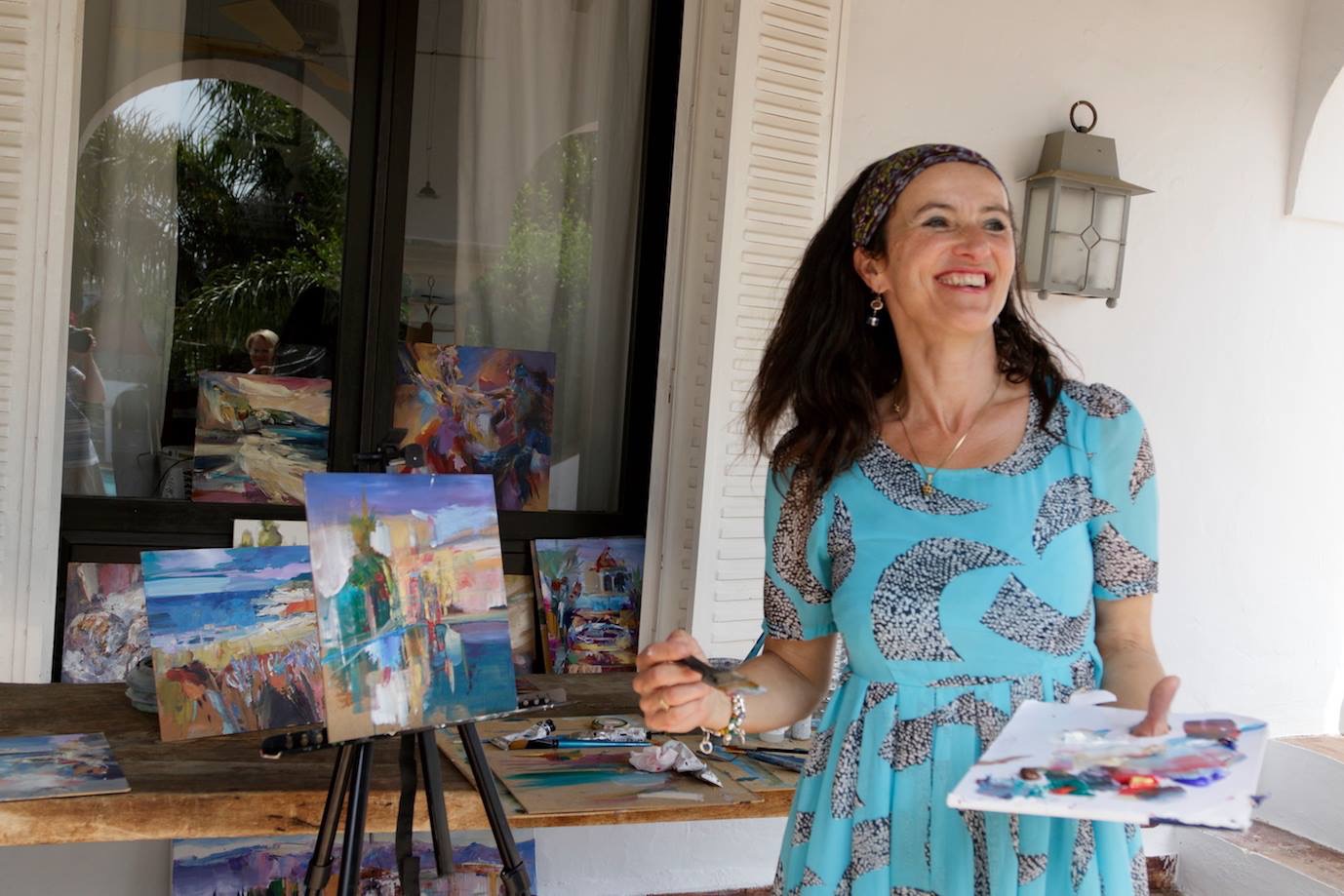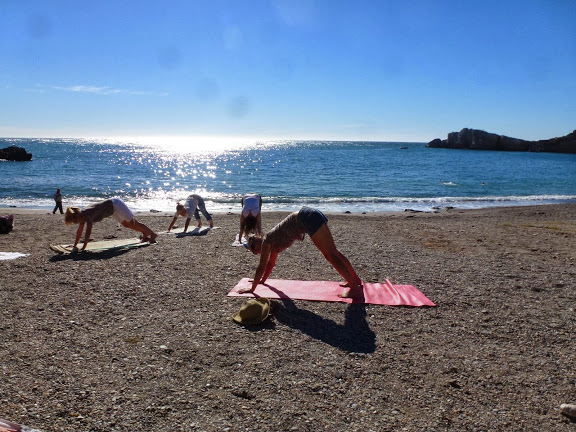 I use a free style of painting and demonstrate using a wealth of techniques acquired from a decade of experience of painting on location in the mediterranean. My aim is to create an environment to unleash an unhindered expressionist style using a vivid colour palette. I use demonstrations to help you to approach a painting from start to finish and you will learn how to freely describe your style in an emotional response to the subject matter. You will also learn about the use of warm and cool colours to create depth and vitality in a painting without getting hung up in unnecessary detail and you will come away with paintings that speak volumes about the locations offered on this luxurious trip.
Ultimately my aim is to draw out each individual's unique signature style which is surprisingly unique to each person and offer as much as individual help, guidance and feedback as is necessary throughout the week whilst aiming to address all the different levels of the group. In addition I have a resource of creativity thinking tips and techniques from my background in coaching to help people overcome barriers to succeeding. I work mainly in acrylics for but I also am happy to demonstrate in watercolour and I often use an watercolour on location. I really encourage you to come and unleash your inner artist with a like minded supportive and inspiring people I really look forward to helping you whilst exploring new locations through sketching and paintings so come and join me on one of my painting holidays in various locations.
Book your place on the next painting holiday in Spain
Book your place on the next painting holiday in Turkey

Book your place on the next painting holiday in Greece